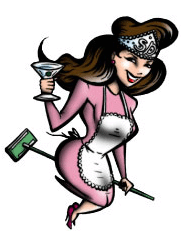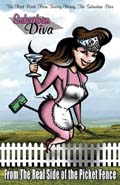 Buy my book!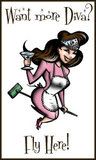 Suburban Diva ®
The Great Shopping Survey Experiment

My usual response is a mumbled "Thanks," as I stuff the store receipt into my purse. The survey that the cashier has helpfully highlighted in pink remains unanswered as well as all of my chances to a sweepstakes for a gift card if I simply "go online and complete a brief questionnaire about my shopping experience."

What started out as a mandatory salutation from bored salespeople coupled with an offer for their store credit card at a handful of stores has become part of nearly every transaction at retail and restaurant chains across the country. It seems as though everyone wants your opinion and is willing to give you certain shopping perks in exchange for it.

I decided to host an experiment to see just how much my opinion mattered to those cash register receipts.

For a period of about a month, I decided to complete every survey from everywhere I shopped or dined that offered one. I answered each one honestly and independently from one another and recorded the time it took to complete, the ease of the process and what the promised payoff to me was.

Not much, was the resounding answer.


The Good:

Of the 15 surveys I completed only two from retail stores and two from restaurants offered something tangible. Dick's Sporting Goods emailed me a $10 off coupon immediately after completing their six minute survey, and Off Broadway Shoes gave me an instant $5 off my purchase at the register if I texted a number they provided. I appreciated that instaneous savings.

And of the two out of three restaurants I tried, Sticky Fingers Smokehouse and Outback Steakhouse gave me a code for a free dessert and an appetizer respectively.

The Not Bad:

JCpenney is offering a button after a purchase at their store. You go on the website, enter in the code from the back of the button, and you are instantly notified if you're a winner.

I didn't win, but by this point, I was used to it.

The big, bad waste of time:

Every other retail store I sampled entered me into a sweepstakes of varying prizes. Best Buy and Home Depot were the most generous with a chance at a $5,000 shopping spree, while Joann Fabric and Craft Center offered a mere $25 gift card. None of this mattered since to date, I haven't won a dime.

The average time it took to complete a survey was about 7 minutes, but Toys R Us took a whopping 13 minutes. But if you've ever stood in line at this chronically understaffed store during the holidays, anything under an hour seems like a bonus. Pier 1 Imports was the only one I chose to answer by phone, and I think this added considerably to the time devoted to a $7 clearance floral stem.

So after a couple of hours of visiting store websites and placing numerical values to whether signs printed in Spanish enhanced my shopping experience, I can't say that it was worth the investment. To be fair, I am not a particularly lucky person nor am I particularly patient. The nebulous sweepstakes offers seem awfully shallow when stores are asking customers to invest additional time to advance their consumer research. While the store got my time, age, and annual income, all I got in return was a receipt eight inches longer than necessary, strange 800 numbers calling during dinner and a Blooming Onion.


If you're only in search of that look and feel and also the legitimate look and feel in the watch, in addition to copies tend to be Intelligent way to go.

These kinds of sizzling fresh gadgets especially good obtained through teenagers.

find clothings,Pursuing a number of most current visits right here, however, is starting to become increasingly more chic. camisetas de la nba 2012 http://www.camisetasnba.es/


Posted by Anonymous, 05/06/13, 06:39pm

artical is very well,original opinions and the comprehensive look at things also make me enjoyable and I also have something to share.


Posted by

MCITP

, 05/09/13, 07:51am

Great goods from you, man. I have understand your stuff previous to and you are just too wonderful. I actually like what you have acquired here, certainly like what you're stating and the way in which you say it. You make it enjoyable and you still care for to keep it smart. I can not wait to read far more from you. This is really a wonderful web site. outlet abercrombie http://outlet-abercrombie41.webnode.es/


Posted by Anonymous, 05/14/13, 04:22pm

According to Reuters, a study published by the National Bureau of Economic Research in 2011 found that "The more aggressively a bank lobbied before the financial crisis, the worse its loans performed during the economic downturn -- and the more bailout dollars it received". Now, despite its former status as the basket case of Wall Street, Citigroup and its hired guns are welcome on Capitol Hill, weighing in on and even drafting bills -- like one the House committee signed off on earlier this month, exempting several classes of derivatives from a rule intended to prevent government insurance from backstopping risky trades.I won't dispute for one second the problems of a system that demands immense amount of fund-raisers by its legislators," said Representative Jim Himes, a third-term Democrat of Connecticut, who supported the recent industry-backed bills and leads the party's fund-raising efforts in the House. A member of the Financial Services Committee and a former banker at Goldman Sachs, he is one of the top recipients of Wall Street donations. "It's appalling, it's disgusting, it's wasteful and it opens the possibility of conflicts of interest and corruption. It's unfortunately the world we live in." michael kors satchel


Posted by Anonymous, 05/28/13, 11:35am

According to Reuters, a study published by the National Bureau of Economic Research in 2011 found that "The more aggressively a bank lobbied before the financial crisis, the worse its loans performed during the economic downturn -- and the more bailout dollars it received". Now, despite its former status as the basket case of Wall Street, Citigroup and its hired guns are welcome on Capitol Hill, weighing in on and even drafting bills -- like one the House committee signed off on earlier this month, exempting several classes of derivatives from a rule intended to prevent government insurance from backstopping risky trades.I won't dispute for one second the problems of a system that demands immense amount of fund-raisers by its legislators," said Representative Jim Himes, a third-term Democrat of Connecticut, who supported the recent industry-backed bills and leads the party's fund-raising efforts in the House. A member of the Financial Services Committee and a former banker at Goldman Sachs, he is one of the top recipients of Wall Street donations. "It's appalling, it's disgusting, it's wasteful and it opens the possibility of conflicts of interest and corruption. It's unfortunately the world we live in." michael kors jet set tote


Posted by Anonymous, 05/28/13, 11:35am

According to Reuters, a study published by the National Bureau of Economic Research in 2011 found that "The more aggressively a bank lobbied before the financial crisis, the worse its loans performed during the economic downturn -- and the more bailout dollars it received". Now, despite its former status as the basket case of Wall Street, Citigroup and its hired guns are welcome on Capitol Hill, weighing in on and even drafting bills -- like one the House committee signed off on earlier this month, exempting several classes of derivatives from a rule intended to prevent government insurance from backstopping risky trades.I won't dispute for one second the problems of a system that demands immense amount of fund-raisers by its legislators," said Representative Jim Himes, a third-term Democrat of Connecticut, who supported the recent industry-backed bills and leads the party's fund-raising efforts in the House. A member of the Financial Services Committee and a former banker at Goldman Sachs, he is one of the top recipients of Wall Street donations. "It's appalling, it's disgusting, it's wasteful and it opens the possibility of conflicts of interest and corruption. It's unfortunately the world we live in." christian louboutin sneakers


Posted by Anonymous, 05/28/13, 11:35am

While visiting family and friends in Amman, Jordan last week after being away for over two years, I was constantly being asked about my observations on Amman, and whether it had changed since I was last there in October 2010.During the first couple of days, I would usually respond saying I noticed more traffic, and new construction here and there. A few days into my visit, things got clearer (I'm blaming the jetlag for my delayed observation). I noticed a change, a big one. Somehow, politically-divided Ammanites were united on one issue: Syrians.Last time I visited Jordan, the annoying term the "Arab Spring" was not even coined. So, fast forward two years, I would have expected to see change along these lines, but what I saw instead was not youth marching in the streets asking for reform (to the dismay of many D.C. think tanks), but rather Jordanian citizens who are increasingly becoming concerned about the influx of refugees from their war-ravaged next door neighbor.Citigroup was the megabank that received the most taxpayer assistance during the financial crisis, a fact perhaps related to the very same lobbying practices now being used to rein in regulation red bottom shoes


Posted by Anonymous, 05/28/13, 11:35am

While visiting family and friends in Amman, Jordan last week after being away for over two years, I was constantly being asked about my observations on Amman, and whether it had changed since I was last there in October 2010.During the first couple of days, I would usually respond saying I noticed more traffic, and new construction here and there. A few days into my visit, things got clearer (I'm blaming the jetlag for my delayed observation). I noticed a change, a big one. Somehow, politically-divided Ammanites were united on one issue: Syrians.Last time I visited Jordan, the annoying term the "Arab Spring" was not even coined. So, fast forward two years, I would have expected to see change along these lines, but what I saw instead was not youth marching in the streets asking for reform (to the dismay of many D.C. think tanks), but rather Jordanian citizens who are increasingly becoming concerned about the influx of refugees from their war-ravaged next door neighbor.Citigroup was the megabank that received the most taxpayer assistance during the financial crisis, a fact perhaps related to the very same lobbying practices now being used to rein in regulation christian louboutin wedges


Posted by Anonymous, 05/28/13, 11:35am

According to Reuters, a study published by the National Bureau of Economic Research in 2011 found that "The more aggressively a bank lobbied before the financial crisis, the worse its loans performed during the economic downturn -- and the more bailout dollars it received". Now, despite its former status as the basket case of Wall Street, Citigroup and its hired guns are welcome on Capitol Hill, weighing in on and even drafting bills -- like one the House committee signed off on earlier this month, exempting several classes of derivatives from a rule intended to prevent government insurance from backstopping risky trades.I won't dispute for one second the problems of a system that demands immense amount of fund-raisers by its legislators," said Representative Jim Himes, a third-term Democrat of Connecticut, who supported the recent industry-backed bills and leads the party's fund-raising efforts in the House. A member of the Financial Services Committee and a former banker at Goldman Sachs, he is one of the top recipients of Wall Street donations. "It's appalling, it's disgusting, it's wasteful and it opens the possibility of conflicts of interest and corruption. It's unfortunately the world we live in." christian louboutin daffodile


Posted by Anonymous, 05/28/13, 11:35am

I'm really enjoying the theme/design of your site. louis vuitton purse http://lunettes-pas-cher2013.tumblr.com


Posted by Anonymous, 06/05/13, 08:58pm

I like this post, enjoyed this one appreciate it for putting up. maillots de foot pas cher http://maillotsdefoot2013.webnode.fr/


Posted by Anonymous, 06/14/13, 08:31am

The Great Shopping Survey Experiment - Suburban Diva 7 days herbal slim http://www.leuaina.com/7-days-herbal-slim.php


Posted by Anonymous, 06/16/13, 08:11pm

I'll apply this idea…… It can be fun! ray ban wayfarer http://lunetteray-banpascher.blogspot.com/


Posted by Anonymous, 06/16/13, 08:30pm